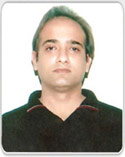 Dr. Ajay Mahajan
MD (Radiologist)
M.B.B.S – G.M.C Nagpur-1996
M.D (Radio Diagnosis) G.M.C, Amritsar=1999
Mann Scanning Centre, Jalandhar, S.G.L Charitable Hospital, Garha Road, Jalandhar.
Radiology

Radiologists are the behind-the-scenes force harnessing the power of advanced imaging to help shape healthcare decisions that profoundly affect medical treatment. Advances in imaging technology enable the early detection of disease that can lead to improved treatment options and outcomes. We at SGL Hospital are dedicated to the safe and efficient use of advanced imaging to help improve the health of the patients we serve. The range of facilities, with latest state-of-the-art equipment in radiology and imaging, extends from X-Ray to 6 slice MDCT, Ultrasound with Color Doppler and guided interventions computerized radiology and Mammography.

The department is equipped with Ultra Modern machines.

Various portable machines are at hand to provide imaging facilities especially in the Intensive Care units at the bed side. The best of high speed rare earth screens, cassettes and imported films go to provide high quality skiagrams. Due care is taken to ensure patient comfort, safety and well being before, during and after the procedures.
Special Interventional Procedures
Percutaneous transhepatic biliary drainage stenting
Percutaneous nephrostomy

Besides Barium studies, IVP and Urethrograms,Myelogram , Cisternograms, hysterosalpingograms, PTBD (Percutaneous transhepatic Biliary drainage)and PCN (Percutaneous nephrostomy) are done under fluoroscopic guidance routinely.
Procedure
Angioplasty
Embolization
Stenting
Thrombolysis

High resolution 2D, 3D and 4D images of all body parts are now possible with reduced scan times and greater patient comfort. Virtual bronchoscopy, colonoscopy and angioscopy, With introduction of these modalities and medical imaging in this part of the world, SGL Hospital is set to scale new heights with a quantum leap in the field of diagnostic and interventional radiology.

SGL Hospital is at the forefront of medical technology and expertise and provides a complete range of the latest diagnostic, medical and surgical facilities for the care of its patients. The hospital brings together some of the most talented medical professionals in the country and has a dedicated team of clinicians to provide highest standards of patient care.